STRIVING TO LIMIT RISK AND CAPTURE GAINS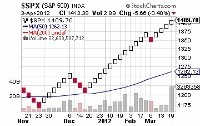 Indexes are unmangaged and investors are unable to invest directly into any index. Past performance does not guarantee future results.
"Boutique" and "Full Service" are commonly used descriptions for Financial Planning firms.  However the 2008 Stock Market Crash did not discriminate in favor of firms calling themselves "Boutiques".  At Don Scholl & Associates, our approach to market challenges is to strive to limit risk utilizing Technical Analysis to monitor and adapt to the Market.  We do not sit idly by with passive portfolios hoping for the best, rather we make ongoing investment adjustments to try to limit risk and capture gains for our clients.  The last decade has taught us many lessons and we believe we have diligently applied those lessons in developing our approach to stock and bond market investment, to the benefit of our loyal clientele.
Each week we provide a video market update and commentary that appears directly below.  We believe this weekly commitment to informing and educating our clients highlights our ongoing care and prudence in  servicing you, our client.
Technical Analysis is based on the study of historical price movements and past trend patterns. There is no assurance that these movements or trends can or will be duplicated in the future. It logically follows that historical precedent does not guarantee future results. Conclusions expressed in the TA section are personal opinions; and may not be construed as recommendations to buy or sell anything. Investing involves risk including the potential loss of principal. Indexes are unmanaged and investors are not able to invest directly into any index. Past performance does not guarantee future
Video and Photo Gallery for Your Enjoyment:
Smokey
Smokey Says.....
When hunting for the Bear (market), it may turn on you suddenly and force a quick retreat, but never quit or give up on the Bear (market) hunt.